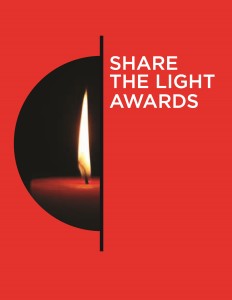 Northwood Neighbourhood Services (NNS) recognizes that non- profit organizations play a vital role in supporting and strengthening individuals, families and communities. In recognition of that role, NNS created the SHARE THE LIGHT AWARDS to pay tribute to its Leaders, Staff, Clients and Volunteers, for their dedication and commitment to helping those in need, and to improving community life.
SHARE THE LIGHT derives from the Kiswahili expression "MSIGEUKE TAA KUMULIKA YA WENZENU".
The great efforts of leaders will be recognized in the following categories:
Leadership Award: Created to recognize Executive Directors and Board Directors who work tirelessly to lead their organization with vision and passion
Service Excellence Award: Created to recognize Front line Workers who go above and beyond in delivering services to their clients
Volunteer Excellence Award: Created to recognize those dedicated volunteers who give generously of their time to support their agency's mission and vision
Client Services Award: Created to recognize a Client who, as a result of agency programs, was able to achieve, maintain & enhance a state of physical, mental & social well being
Community Impact Award:  Created to recognize an individual or an entire organization reaching above and beyond the call of duty to positively impact the community
Through the Share the Light Awards, we pay tribute to the leaders and staff for their dedication to helping those in need and improving lives. The nomination process will strengthen loyalty and commitment to the organization, to the community, and to the client base being served. In turn, this recognition will enhance the self-esteem and the motivation of staff and volunteers while recognizing their hard work.